The Mad Food Scientest is at it again folks!!! His creative genius exudes confidence (ok cockiness, I call it sexiness...woohoo) he is up to his old antics again creating a masterful dessert called none other than.....Galaktoboureko...do not ask me to pronounce this...all I know is it looks gooooooooooooooodddd. A few will get to taste this masterpiece tomorrow at my place of work...hint hint and at Master Dominick's school. I will take a picture of it and look forward to your comments tomorrow!!! Hasta pronto!
Suppose to look like this once its done: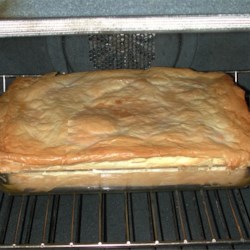 https://www.facebook.com/TheColonialBedandBreakfastAtStamfordNY
Chef Johnas was singing and dancing to this video while he prepared his masterpiece!!!
\
Here's a picture of his masterpiece, please comment!!!